Two-time European Tour winner, Rasmus Højgaard, and one of the world's most promising young golfers, Nicolai Højgaard, are today announcing a new partnership with Scan Global Logistics, a fast growing global transport and logicstics company. Both Danes will wear the Scan Global Logistics logo on the left sleeve of their apparel.
The golfing-twins and Scan Global Logistics both have their roots in the Nordic region, while at the same time having the whole world as their playing field. They also share the traits of being exceptionally ambitious and highly skilled specialists, on the golf-course and in logistics. This has ignited a match made in heaven.
"I am really happy that Scan Global Logistics have decided to come on board and partner with me at this early stage of my career. As professional golfers, we travel all over the world and appreciate how difficult it can be to get products to certain areas of the globe. It is remarkable how easy Scan Global Logistics make it all work, making the complicated seem uncomplicated and always with a human touch", says the world's 77th best golfer, Rasmus Højgaard.
The young Dane's next tournament will be the Golf in Dubai Championship next month, following on from his second European Tour victory at the ISPS HANDA UK Championship in August.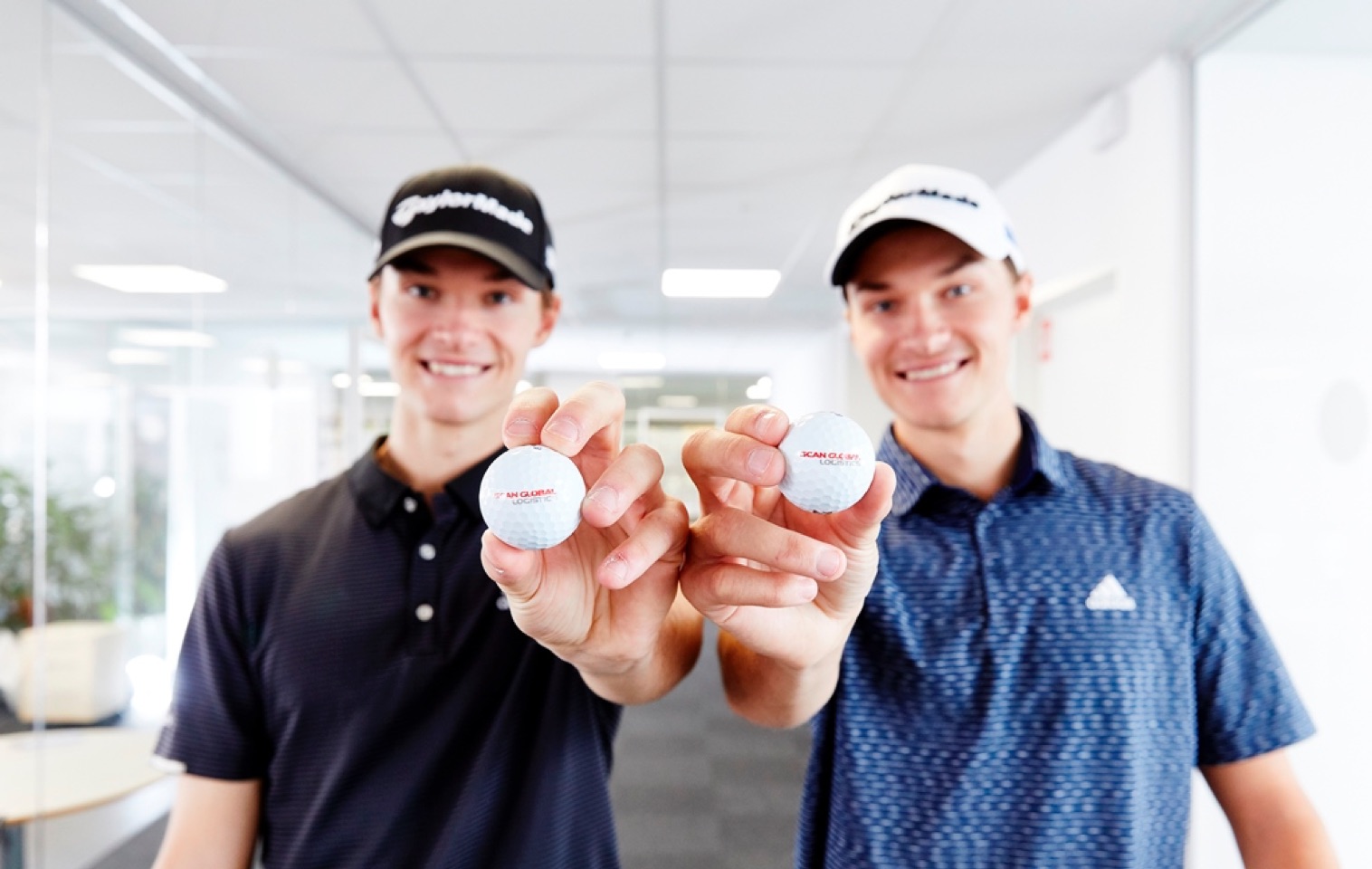 Nicolai Højgaard, finished 2nd at the 2019 KLM Open and was ranked 5th in the World Amateur Golf Rankings upon turning professional in 2019. He is one of the world's most exciting players and is firmly focused on continuing to progress through the ranks and becoming one of the leading players in the world:
"It is an honour to represent a company like Scan Global Logistics who are market leaders in their field in the Nordic region and equally, incredibly respected all over the world. I am proud to wear their logo and it's nice to feel close to home, by partnering with a Danish company", says Nicolai.
Nicolai will compete at the Joburg Open next week on the European Tour.
Scan Global Logistics´ purpose is to uncomplicate the supply chain for their customers so they can focus on their core competence: their products. This partnership should hopefully do the same, ensuring the twin brothers focus on what they are best at – playing golf.
"We are very excited to announce this partnership with two of the most talented athletes in Denmark, both possessing a very high degree of perseverance and ambition, not to mention their willingness to become the best. These are aspects we mirror in ourselves. More importantly, both of them are humble, respectful and hard working people, which for us are fundamental virtues in our daily work. We are excited about being part of their future journey," says Mads Drejer, Global COO at Scan Global Logistics.
The deal with two of the world's most promising golfers, marks the biggest sponsorship agreement for Scan Global Logistics to date, which is in full alignment with the global expansion and growth plans to achieve the position as a global industry leader within transport and logistics. Currently, Scan Global Logistics have more than 1,850 employees worldwide and a yearly total revenue of USD 1.2 Billion.
About Scan Global Logistics:
Scan Global Logistics is a global full-service logistics provider headquartered in Copenhagen, who excel in uncomplicating logistics through tailored solutions made by skilled specialists, proud problem-solvers and passionate entrepreneurs. Having a wide-ranging global network, Scan Global Logistics are able to reach even the most remote corners of the world.
Since 1975, the core of the DNA has been a 'can-do-attitude', agility and the willingness to always go the extra mile. Scan Global Logistics are not afraid to go left when others go right – and every challenge is an opportunity. They go above and beyond to bring anything to anywhere, whether by road, rail, ocean, air or any other modes of transportation.